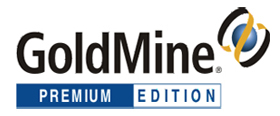 Goldmine 2014.2 Released with NEW Web Client
GoldMine has recently released version 2014.2 which includes the NEW Web Client. The objective is to provide greater flexibility in the way you access your Goldmine data.
In addition to the standard Windows desktop client available in a Local Area Network, the GoldMine application can be accessed remotely:
-> Over a client's VPN using Remote Desktop or Citrix
-> Use of a web-enabling solution like iGoldmine (based on Go-Global)
-> Use of Goldmine Mobile Edition for iOS and Android devices
These current options are available at a nominal additional cost, and provide either full functionality in a browser (as in the first two options) or a subset of features on the Mobile Edtion.
Why use the new Web Client?
With the above options already available for remote access, you might be wondering what added benefit this web client brings to the table. The advantages have been listed below;
-> Provide real-time web browser access to your GoldMine database using any browser, without any desktop setup
-> Provides the look and feel of a modern web client along with the "no install" aspect that greatly simplifies support of remote users
-> There is no additional charge or license for the web client, as it is incorporated into Goldmine Premium 2014.2
-> This initial release will provide basic functionality, which will gradually be expanded with future releases
What are the features and limitations in this first version of the Web Client?
Features
This first release of Goldmine Web Client provides basic functionality in a cut-down feature set, which will be increased in future editions. Right now, you can launch the browser to view, update, and create;
Contact Records
Pending and History Activities
Additional Contacts
Notes
Details
You can also schedule, edit, and complete activities for yourself and other users:
Calls
Appointments and Events
Actions
Sales
Limitations
This first release is not intended for advanced and power users and you need to be aware of the following limitations;
-> You can't schedule an activity to an additional contact
-> You can't create a To Do
-> There is no email client
-> Can't use on a mobile phone
-> There is no Next Action choice, as everything is an Other Action
So, how do you get it installed?
The web client interface is incorporated into the Premium Edition version 2014.2 release. Customers will need to update to this version as earlier versions will not support the Web Client. Mobile server components need to be installed on a client's IIS with appropriate internet connectivity configuration. Customers under current Product Maintenance will be sent a link (please email ravi@inconcrm.com) to download the 2014.2 version at no additional charge. Customers that also have a current Support Package with Mercer Lal/INCON Consultants, can avail of our services to install this version, at no additional charge.
What are the license requirements?
As the GoldMine Web will be part of Premium Edition, it will not have a separate licensing scheme. Please be aware on the following licensing governance:
All Premium Edition customers will have to obtain a new Premium Edition 2014.2 license from Mercer Lal/INCON Consultants
The Web Client will require an available Premium Edition License (as with current licensing of iGoldMine/Go-Global and Mobile Edition)
Only one web client session per named user will be allowed at the same time and logging into the Web Client will log a user out of any other remote session
Is this a replacement for Mobile Edition, or iGoldMine/GO-Global?
The web client is not intended as a replacement and Mercer Lal/INCON Consultants will continue to sell and support both the iGoldmine/Go-Global as well as the Goldmine Mobile products:
iGoldMine/GO-Global will remain an available option for those customers wanting full features of the Windows Client while using a browser;
Mobile Edition will continue to be available for real-time access from mobile devices